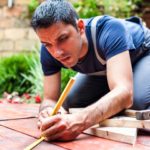 Decks and Porches
There are many things to consider when hiring a St. Louis company to install your backyard deck. A deck is usually a flat elevated surface that supports weight and is located outdoors. It is usually installed in backyard areas to provide a relaxing and entertaining outdoor space. The fresh air that you can feel during your stay in the deck will let your body rest and regain energy after your family's long day in school, work or sports activity. It is also a good place where your family can do your outdoor bonding that you even have to go far from home. And because it is a setting for your family relaxation it is important that the installation of your deck must be done with solid structural support to ensure everyone's safety and also the design which gives the overall ambiance of the place.
There are many construction groups that offer services in the construction of backyard decks which have their own style of working. When you have to pick a STL construction company or team there are things that you have to be considered.
Decks and Porches in St. Louis
Backyard Decks in St. Louis

Phone Number


Aesthetic Design & Build

636-532-5008

Alpha Fence and Deck Systems

314-892-2500

Archadeck

636-227-0800

California Custom Decks

314-968-3325

Chesterfield Fence & Deck

636-489-2474

Deck & Patio Living

314-366-3500

Easter Fence

314-892-8500

Fence & Deck Depot

636-385-5858

Maris Home Improvements

636-778-4343

Missouri Custom Decks

314-338-4506

Outdoor Living

Solomon Contracting

314-966-3325

314-890-8000
First in hand when you are planning to hire a construction company is that you must have in your mind the picture of what you want to do in your deck. This includes the design, the target budget, the area or space where you want it to be installed. Then you can start researching for Saint Louis contractors that can provide you the services that is suitable to your budget design and material to be used. You have also to take note that construction companies have different design and material expertise.
When you have list of the probable contractors, you also have to verify which of these have their local license and also you have to check the reputation of these companies. By checking about this information you will be able to determine which service provider is safe to work with and who can give the best construction that would fit to your preferences. You can also read reviews about their previous projects or may ask your neighbor or friends who probably have worked with this group.
New Deck – Porch
After reviewing the reputations of each contractor in your list you can narrow down you choices maybe into three. Then it's the time that you can call them for inquiries and discuss with them their terms and your terms. When you're doing your inquiries you have asked details of the warranty services that they offer, you must also know if they are insured and what is their insurance carrier.
In this interview you can also ask the time duration that they will be doing your deck. You must also check if they are willing to agree and work on the materials of your choice. You can also ask references that will prove that quality of their previous projects.
Another consideration that you have to look at is the pricing of the labor for the installation. The Contractor must be able to discuss to you the estimated budget for the project. They also have to discuss to you the financial impacts if ever there are construction delays or if it happens that you want to add features which are not included in your original plans.
When hiring a construction company you will have to look at many considerations. You and the construction must have the understanding about the target output and every detail of each step. Good pricing, flexible and expertise people are the best characteristics of a construction group you can work with to have the backyard deck that you want.
ALSO CHECK: Drywall – Plaster