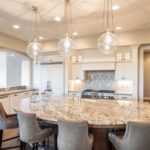 Kitchens and Baths
Changing the way your home looks is never a small thing, so unless you're a virtual whiz with DIY, you need to hire a STL kitchen remodeling company to help. Remodeling your kitchen is one of the trickiest things you can do because not only do you have to think with the look and feel in mind, but also practicality, safety, and space. For example, you don't want to stick a huge kitchen bar in the middle of a long skinny room. Safety is of course your most important issue and any kitchen remodeler you choose should be chosen partially on that basis. However, if you're spending the big bucks on your kitchen, you want it done right. Here are five tips for finding a great kitchen remodeling company. 
St. Louis Kitchen Remodeling



Cabinet Distributors offers fine cabinetry at wholesale pricing and free estimates. We specialize at creating custom kitchens at wholesale prices. If you've just bought a home, you may be thinking about a few updates. If those updates include cabinetry, kitchens or baths, visit our newly remodeled showroom. You'll find every door style and cabinet finish you can imagine, plus innovative designs and terrific people with decades of experience.

AAA Remodeling Company is a family-owned and operated business that has been serving St. Louis, MO and the surrounding areas for over 50 years! Our experienced remodeling staff can transform any style or size of bathroom with a full redesign. We can also design a layout for a brand-new bathroom installation. Perhaps you want to add a bathroom to a bedroom or basement; we have the equipment and experience to make it happen. 
Spirit Walk-In Tubs Spirit Tubs, with its new line of Walk-In Tubs, have been serving the St. Louis & St. Charles area for over 4 years. We have sold and installed over 600 tubs during this period of time. We are a member of the Better Business Bureau, and have an A+ rating with absolutely no complaints in the last 36 months.
St. Louis Kitchen Remodeling 
References: The first thing you should look for is references. References can include online reviews, friends recommending the company, or even the hardware store recommending them. Usually if someone says that a remodeling company does good work then they probably do. If the company has a bad reputation then you should steer clear. Yelp, Yahoo, Google, and of course your friends and family are all great places to look for reviews. 
Great Past Projects: If the St Louis kitchen remodeling company has had a single project in the past then they have photos of it. Consider asking for them, or look for pictures on their website. You want to look for work that you like and approve of. If you can see that kind of quality in your kitchen, then you've probably found the right remodeling company for you.
 Kitchens & Baths St. Louis

 Phone Number

 AAA Remodeling Company

 636-349-5777

 AAA Tub & Tile

 314-403-0463

 Andrew Johnson's Construction & Remodeling

 314-656-1374

 Arch City Granite & Marble

 314-426-3100

 Blue Brick Renovation

 314-772-3644

 Cabinet Distributors

 314-540-3531

 Caliper

 314-565-9448

 Cardinal Kitchen & Flooring

 314-962-3333

 Conway's Remodeling & Repair

 314-427-6391

 Dalco

 314-298-7300

 Finnteriors Construction

 314-384-5594

 Exterior Business Solutions

 314-962-7663

 Graniterra

 314-533-3366

 Meyer Contracting

 314-567-9016

 Midtown Home Improvements

 636-379-8889

 Red Bird Granite

 314-698-7113

 River City Granite

 618-875-9250

 Signature Kitchens & Baths

 636-720-0451

 Spirit Walk-In Bathtubs

 St Louis Rebath

 636-614-4172

 314-849-4882

 Tile & Bath Service

 636-394-0315
License: A license is not required everywhere, but most good remodeling companies will have one. If they also remodel your plumbing and electric, then they will have to have licenses for those two items. Check the website or ask a representative of the kitchen remodeling company to find out what kind of work they are licensed for, and what they can do. 
Consultations: If a company is not willing to send someone to your home to evaluate and look at your kitchen ahead of time then they probably aren't worth your time. A consultation gives you an idea of what can be done with your kitchen, a quote, and a general time frame. All of these should be important factors in your decisions. Many companies offer free consultations, others only offer phone consultations or charge a transportation fee. 
Trained Employees: If you look at employees and they have no idea what they are doing then you don't really want them. Most good remodeling companies have fully trained employees who can professionally install and change a variety of materials including flooring, counters, walls, and more. A full service company will also be able to work with any material, although some also specialize in specific materials such as stone. If you want something specific, try looking for the material first, and then asking the seller who might be able to install it for you. 
Chances are that your choices are going to be limited by your location. Choosing a local remodeling company is more cost effective because you have to pay less in transportation fees. Therefore, your first step should be to look around and find every contractor and company within a certain distance from your home. You can then easily look at and compare every option before making a decision.
The master bath is one of the most highly regarded amenities in the home. It is literally a personal retreat for starting and ending one's days. Luxury and comfort is the common theme underlying why people choose to remodel their bathrooms. Floor-covering starts with textured marble or granite tile (to prevent slipping). Colored grouts is a nice way to add personal expression. With sinks and vanities, there are nearly limitless possibilities and combinations with material, color and patterns. St Louis plumbing fixtures and storage space have both practical and design implications. Electrical outlet placement is important too. 
When hiring a contractor to remodel your bathroom, your contract should include the following: Contact Information, Scope of Work, Project Schedule, Schedule of Payments, Building Plans & Permits, Licensing & Insurance. Other details include: Contract Cancellation, Conflict Resolution, Mechanic's Liens, Warranties and a Punch List (every item of the bathroom remodeling project that must be checked off mutually by the homeowner and the contractor, before the project can be deemed complete.
Bathroom Remodeling Associations

National Kitchen and Bath Association
Remodeling the master bathroom, or another high traffic bathroom in your home disrupts daily life, so be sure to check your contractor out, and your contract for all the little details. Ask friends or family who have been through similar experience for help. Your personal retreat into luxury and comfort awaits!
ALSO CHECK: Landscaping